Arun Bandyopadhyay , Ph.D., FNASc, FAScT
Director
Cell Biology & Physiology

Research Interest
Identification of Protein Biomarker for Risk Assessment of Cardiovascular Disease
Understanding Biochemical Basis of Compromised Reverse Cholesterol Transport in Humans
Inflammation Resolution in Plaque Stability and Implications in Atherosclerosis
Unveiling Mitochondrial Dynamics in Cardiac Hypertrophy
miRNA Mediated Molecular Regulation of Mitochondrial Dysfunction in Cardiac Hypertrophy
Identification of Small Molecules for the Management of Respiratory Diseases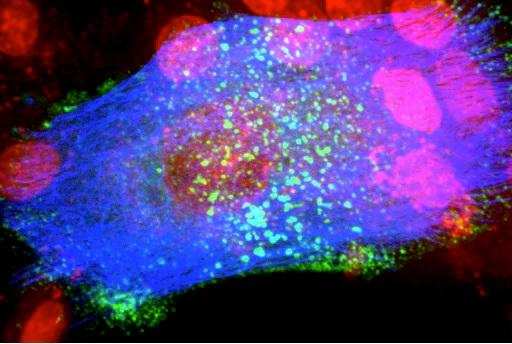 Translocation of Multiple AnxA6 clusters in cardiomyocytes, J.Biol.Chem 2014
Honours & Awards
FNASc, FAScT
Patents & Publications
List of Research Publications:
Guha Ray A, Roy Choudhury K, Chakraborty S, Chakravarty D, Chander V, Jana B, Siddiqui KN and Bandyopadhyay A. Novel Mechanism of Cholesterol Transport by ABCA5 in Macrophages and Its Role in Dyslipidemia. J Mol Biol, 2020, 432,4922-4941
Das AA, Roychoudhury K,

Jagadeeshaprasad

M G, Kulkarni MJ,

Mondal PC and Bandyopadhyay

A.

Proteomic Analysis Detects Dysregulated Reverse Cholesterol Transport in Human Subjects with ST-Segment Elevation Myocardial Infarction. J Proteomics. 2020, 30,103796.
Das AA, Chakravarty D, Bhunia D, Ghosh S, Mandal PC, Siddiqui KN and Bandyopadhyay A. Elevated level of circulatory sTLT1 induces inflammation through SYK/MEK/ERK signaling in coronary artery disease. Clin Science, 2019, 133 (22), 2283-2299.
Kar, D and Bandyopadhyay A. Targeting Peroxisome Proliferator Activated Receptor α (PPAR α) for the Prevention of Mitochondrial Impairment and Hypertrophy in Cardiomyocytes. Cell Phyiol. Biochem, 2018, 49, 245-259.
Mastorci F , Vassalle C, Chatzianagnostou K , Marabotti C , Siddiqui K , Eba AO, Sidi Mhamed SA , Bandyopadhyay A , Nazzaro MS , Passera M and Pingitore A. Undernutrition and Overnutrition Burden for Diseases in Developing Countries: The Role of Oxidative Stress Biomarkers to Assess Disease Risk and Interventional Strategies. Antioxidant, 2017, 6,
Mukherjee S and Bandyopadhyay A

. Proteomics in India: the clinical aspect.

Clin Proteomics

2016, 13:21.

Banerjee T, Kar Dipak, …….. Bandyopadhyay A. A novel triazine-aryl-bis-indole derivative inhibits both phosphodiesterase IV and expression of cell adhesion molecules.

RSC Adv

., 2015, 5, 70271–70281

Banerjee, P, Chander V, Bandyopadhyay, A. Balancing functions of annexin A6 maintain equilibrium between hypertrophy and apoptosis in cardiomyocytes.

Cell Death Dis (NpG).

2015;6:e1873.
Banerjee P and Bandyopadhyay A. Cytosolic dynamics of annexin A6 triggers feedback regulation of hypertrophy via atrial natriuretic peptide in cardiomyocytes. J.Biol.Chem. 2014, 289, 5371-5385.

Banerjee T, Mukherjee, S, Ghosh, S, Biswas M, Dutta S, Pattari S, Chatterjee S,

Bandyopadhyay A.

Clinical Significance of Markers of Collagen Metabolism in Rheumatic Mitral Valve Disease

. PLOS ONE.

2014, 9: e90527.

Mukherjee, S,

Jagadeeshaprasad, MG

, Banerjee T, Ghosh, SK, Biswas M, Dutta S, Kulkarni M, Pattari S,

Bandyopadhyay A

.

Proteomic analysis of human plasma in Chronic Rheumatic Mitral Stenosis reveals proteins involved in the Complement and Coagulation cascade. Clin. Proteom. 2014, 11:35.

Banerjee T, Mukherjee, S, Biswas M, Dutta S, Chatterjee S, Pattari S, Nanda, S.

Bandyopadhyay A. Circulating Carboxy-terminal Propeptide of Type I Procollagen is Increased in Rheumatic Heart Disease. Int. J. Cardiology 2012, 156:117-119.
Mishra S, Chander V, Banerjee P, Oh JG, Lifirsu E, Park WJ, Kim DH and Bandyopadhyay A. Interaction of annexin A6 with alpha actinin in cardiomyocytes. BMC Cell Biol. 2011; 12:7
Member of the The Indian Genome Variation Consortium. Aggarwal S, et. Al. Proc, Natl Acad Sci. USA 2010;107:18961-18966.
Roy SG, De P, Mukherjee D, Chander V, Konar A, Bandyopadhyay D and Bandyopadhyay A. Excess of Glucocorticoid induces cardiac dysfunction via activating Angiotensin II pathway. Cell. Physiol. Biochem. 2009, 24(1-2):1-10.
Zhao W, Fan GC, Zhang ZG, Bandyopadhyay A, Zhou X and Kranias EG. Protection of peroxiredoxin II on oxidative stress-induced cardiomyocyte death and apoptosis. Basic Res. Cardiol. 2009, 104(4):377-89.
Member of The Indian Genome variation Consortium. Genetic landscape of the people of India: a canvas for disease gene exploration. J. Genetics. 2008, 87(1): 3-20.
Ghose Roy S, Mishra S, Ghosh G and Bandyopadhyay A. Thyroid hormone induces myocardial matrix degradation by activating matrix metalloproteinase. Matrix Biol. 2007, 26:269-279.
Ghosh G, De K, Maity S, Bandyopadhyay D, Bhattacharya S, Reiter RJ and Bandyopadhyay A. Melatonin protects against oxidative damage and restores GLUT4 expression in hyperthyroid rat heart. J. Pineal Res. 2007, 42:71-82.
Mahata B, Mukherjee S, Mishra S, Bandyopadhyay A and Adhya S. Functional delivery of a cytosolic tRNA into mutant mitochondria of human cells. Science. 2006, 314:471-474.
Dey D, Mukherjee M, Basu D, Datta M, Roy SS, Bandyopadhyay A and Bhattacharya S. Inhibition of insulin receptor gene expression and insulin signaling by fatty acid: interplay of PKC isoforms therein. Cell. Physiol. Biochem. 2005, 16:217-28.
Member of The Indian Genome variation Consortium. The Indian Genome variation database (IGVdb): a project overview. Human Genetics. 2005, 118(1):1-11.
De K, Ghosh G, Datta M, Konar A, Bandyopadhyay J, Bandyopadhyay D, Bhattacharya S and Bandyopadhyay A. Analysis of Differentially expressed genes in hyperthyroid-induced hypertrophied heart by cDNA microarray. J. Endocrinol. 2004, 182:304-314.

Bandyopadhyay J,

Lee J, and Bandyopadhyay A. Regulation of calcineurin, a calcium-calmodulin-dependent protein phosphatase, in C. elegans. Molecules and Cells 2004, 18 (1): 10-16.
Kim MJ, Jo DG, Hong GS, Kim BJ, Lai M, Cho DH, Kim KW, Bandyopadhyay A, Hong YM, Kim DH, Cho C, Liu LO, Snyder SH and Jung YK. Calpain-dependent cleavage of cain/cabin1 activates calcineurin to mediate calcium triggered cell death. Proc. Natl. Acad. Sci. USA. 2002, 99:9870-9875.
Shin DW, Pan Z, Bandyopadhyay A, Bhatt M, Kim DH and Ma J. Calcium dependent interaction between FKBP12 and calcineurin regulates activity of the Ca release channel in skeletal muscles. Biophys. J. 2002, 83: 2539-2549.
List of Patents:
Sl.No.

Title

Patent No. / Filing No.

Translational Research Contributions

1

RIAZINE-ARYL-BIS-INDOLES AND PROCESS FOR PREPARATION THEREOF

Patent no. 9085559

Granted: 21/07/2015

Novel PDE4 inhibitor targeted for lung disease therapy as a bronchidilator. Preclinical lab level validations done

2

Inhibitors of IL-4 and IL-5 for the treatment of bronchial asthma

Patent no. 9302967

Granted 05/04/2016

Novel anti-inflammatory compound, targeted for combination therapy with PDE4 inhibitor. Preclinical lab level validations done

3

A molecule from herbal origin for the treatment of bronchial asthma.

Appl No. 0267DEL2011, Prov Filing Dt. 4/2/2011

A plant source of PDE 4 inhibitor. Alternate medicine for asthma and COPD

4

Biomarker for valvular heart disease

Appl No. AP/2013/006853

Blood based marker for detection of rheumatic heart disease. Prototype is ready.

BR

BR/1120130087013
Products
Prototype for Detection of Rheumatic Heart Disease