Biswadip Banerji , Ph.D.
Principal Scientist
Organic & Medicinal Chemistry

Research Focus
• Our research scopes have no boundaries and its extremely diverse. Thus students get exposure to do whatever they want and have their own liberty to explore anything in the field of chemical biology. • Therefore hardcore organic synthesis can smoothly run parallel with Medicinal chemistry, nano-material chemistry, Chemosensor etc.
Research Interest
Synthesis of novel, hitherto unknown Fused heterocyclic scaffolds by intramolecular cyclization reactions via CDC reaction
Synthesis of natural products and natural products based hybrid scaffolds and its application in therapeutics.
C-H Activation reaction to construct novel Fused heterocycles
Design and synthesis of small peptide/peptidomimetics and study their biological/biophysical properties.
Design, synthesis, biophysical and biological efficacy studies of different (peptidic/ nonpeptidic nano-materials.
Nanoparticle based drug delivery system using anticancer drugs and synthesized bioactive molecules in the lab.
Novel Ligand design & ion-sensing (Ref: 1), Molecule sensing (Hydrazine), Organelle Sensing (Lysosome, Mitochondria) etc.
Some of the reported Research Activities from the group:
1. Efficient Detection of Early Events of α-Synuclein Aggregation Using a Cysteine Specific Hybrid Scaffold (Chemo sensing)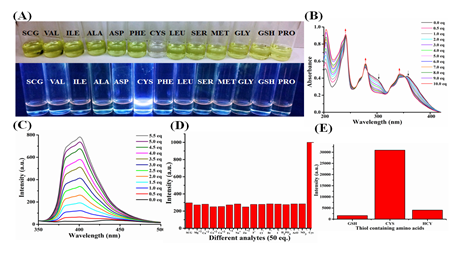 2. Rh(III) Catalyzed Decarboxylative o-Acylation of Arenes Bearing an Oxidizing Directing Group (Organic Synthesys)

3. Detection of Lysosome by a Fluorescent Heterocycle: Development of Fused Pyrido–Imidazo–Indole Framework via Cu-Catalyzed Tandem N-Arylation (Chemical Biology)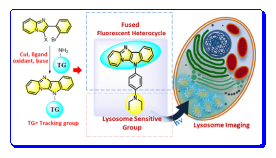 4. Palladium-Catalyzed Direct Synthesis of Phenanthridones from Benzamides through Tandem N–H/C–H Arylation (Organic Methodology)

5. Expedient synthesis of a phenanthro-imidazo-pyridine fused heteropolynuclear framework via CDC coupling: a new class of luminophores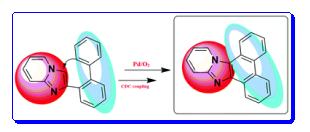 Credentials
2009- Present: Senior Scientist/Assistant Professor(AcSIR)/Principal Scientist
2011-2013: Post Doctoral Research Associate, Nanyang Technological University, Singapore with professor NAOHIKO Yoshikai)
2002-2008: Post Doctoral Research Associate, Oxford University (Prof. Schofield) & A*-STAR, Singapore (Prof. K. C. Nicolaou)
2001: Ph.D. Indian Institute of Technology Kanpur (IIT-K), Kanpur, India with Professor Javed Iqbal.
Grants & Supports
Approved by SERB, India from 2015-2019.
Sickel Cell Anaemia disease project, CSIR, 2017-2020
Patents & Publications
PUBLICATIONS
Rh(III) Catalyzed Decarboxylative o-Acylation of Arenes Bearing an Oxidizing Directing Group; Suvankar Bera, K. Chandrasekhar, SatadruChatterjee,Sunil Kumar Killi, Debabrata Sarkar, Biswadip Banerji*, European Journal of Organic Chemistry, 2019, doi.org/10.1002/ejoc.201900242
Efficient Detection of Early Events of α-Synuclein Aggregation Using a Cysteine Specific Hybrid Scaffold. Satadru Chatterjee, Sumanta Ghosh, Snehasis Mishra, Krishna Das Saha,Biswadip Banerji*, Krishnananda Chattopadhyay; Biochemistry, 2019, 58, 1109-1119
A Green Synthetic Approach towards PolyarylatedOxazoles via Iodine‐Catalyzed One‐Pot sp3 C−H Functionalization in Water: From Natural Product Synthesis ToPhotophysical Studies; Biswadip Banerji*, Saswati Adhikary, Leena Majumder, Saswati Ghosh; Asian journal of organic chemistry; 2019, doi.org/10.1002/ajoc.201800742
Detection of Lysosome by a Fluorescent Heterocycle: Development of Fused Pyrido–Imidazo–Indole Framework via Cu-Catalyzed Tandem N-Arylation; Biswadip Banerji*, Satadru Chatterjee, Kadaiahgari Chandrasekhar, Saswati Ghosh, Kaustuv Mukherjee, Chitra Mandal; Journal of Organic Chemistry; 2018, 83, 13011-13018.
Synthesis of Triazole-Substituted Quinazoline Hybrids for Anticancer Activity and a Lead Compound as the EGFR Blocker and ROS Inducer Agent; Biswadip Banerji*, Kadaiahgari Chandrasekhar, Kancham Sreenath, Saheli Roy, Sayoni Nag, Krishna Das Saha; ACS Omega; 2018, 3, 16134-16142.
Cellular Detection of Hydrazine as Isoniazid Metabolite by a New Turn‐On Fluorescent Probe: Synthesis, Live Cell Imaging and In Vitro Toxicity Studies; Biswadip Banerji*, Chandrasekhar K, Satadru Chatterjee, Sunil Kumar Killi, Chandraday Prodhan, Keya Chaudhuri. Chemistry Select; 2018, 3, 12816-12823.
Synthesis and DNA-Binding Studies of A New Cyclic Dimeric Symmetrical Pseudo-Turn Mimetic; Biswadip Banerji*, Satadru Chatterjee, Sunil Kumar Killi, D. Srinivas, Chandraday Prodhan, Atul Katarkar, Keya Chaudhuri, Chemistry Select, 2018, 3, 7, 2103-17.
A Metal-Free Oxidative Carboannulation Approach towards Synthesis of 2,3-Diarylindenones and Its Regioisomers; Biswadip Banerji*, Leena Majumder, Saswati Adhkaryi, Chemistry Select, 2018, 3, 5, 1381–1384.
Formation of Annular Protofibrillar Assembly by Cysteine Tripeptide: Unraveling the Interactions with NMR, FTIR, and Molecular Dynamics; Biswadip Banerji*, Moumita Chatterjee, Uttam Pal, and Nakul C. Maiti*; J. Phys.Chem. B, 2017, 121 (26), pp 6367–6379
Palladium-Catalyzed Direct Synthesis of Phenanthridones from Benzamides through Tandem N–H/C–H Arylation; Biswadip Banerji*, Satadru Chatterjee, K. Chandrasekhar, Chinmay Nayan, Sunil Kumar Killi; Euro. J. Org. Chem, 2017, 35, 5214–5218.
Expedient synthesis of a phenanthro-imidazo-pyridine fused heteropolynuclear framework via CDC coupling: a new class of luminophores; Biswadip Banerji,* Satadru Chatterjee, K. Org & Biomol Chem, 2017, 15, 4130-4134.
Envisaging Structural Insight of a Terminally Protected Proline Dipeptide by Raman Spectroscopy and Density Functional Theory Analyses; Supriya Das, Uttam Pal, Moumita Chatterjee, Sumit Kumar Pramanik, Biswadip Banerji*, and Nakul C. Maiti*; J. Phys. Chem. A, 2016, 120 (49), pp 9829–9840.
Tripeptide consisting of benzyl protected di-cysteine and phenylalanine forms spherical assembly and induces cytotoxicity in cancer cells via apoptosis; Biswadip Banerji*, Moumita Chatterjee, Chandraday Prodhan and Key Chaudhuri, RSC Adv., 2016, 6, 112667-112676.
Neo-tanshinlactone D-ring modified novel analogues induce apoptosis in human breast cancer cell via DNA damage, Biswadip Banerji*, , Sunil Kumar Killi, Atul Katarkar, Satadru Chatterjee, Yellaiah Tangella, Chandraday Prodhan, Keya Chaudhuri; Bioorganic & Medicinal Chemistry, 2016, article in press.
Molecular Details of Acetate Binding to a New Diamine Receptor by NMR and FT-IR Analyses, Biswadip Banerji*, Moumita Chatterjee, Uttam Pal, and Nakul Chandra Maiti*, Journal of Physical Chemistry-A, 2016, 120 (15), 2330–2341.
Regioselective Synthesis of Quinazolinone-/Phenanthridine-Fused Heteropolycycles by Pd-Catalyzed Direct Intramolecular Aerobic Oxidative C-H Amination from Aromatic Strained Amides; Biswadip Banerji*; Suvankar Bera, Satadru Chatterjee, Sunil Kumar Killi, Saswati Adhikary; Chemistry – A European Journal (2016), 3506-3512.
Silver-Catalyzed Azide–Alkyne Cycloaddition (AgAAC): Assessing the Mechanism by DFT Calculations, Biswadip Banerji,* K Chandrasekhar, Sunil Kumar Killi, Sumit Kumar Pramanik, UttamPal, SudeshnaSen and Nakul Chandra Maiti, RSc Open Science, just accepted.
Synthesis and cytotoxicity studies of 1-propenyl-1,3-dihydro-benzimidazol-2-one, Biswadip Banerji* and Sumit kumar Pramanik; Journal of Chemical Biology 2015, 8(3), 73.
Binding studies of creatinine and urea on iron-nanoparticle; Biswadip Banerji*, Pramanik, Sumit Kumar; SpringerPlus 4.1 (2015): 1-9.
Copper (I) oxide nanoparticle and tryptophan as its biological conjugate: a modulation of cytotoxic effects. Mritunjoy Maity, Sumit Kumar Pramanik, Uttam Pal, Biswadip Banerji and Nakul Chandra Maiti; J Nanopart Res,2013, 16 (1), 1-13.
Efficacy of Cyclin dependent kinase 4 (Cdk4) inhibitors as potent neuroprotective agents in cellular models of Alzheimer's disease. Priyankar Sanphui, Sumit kumar Pramanik, P. Moorthi, Biswadip Banerji and Subhas C Biswas; PLOS ONE, 2013, 8 (11), e78842.
Synthesis of Sulfonamide Derived from New Tetrahydroquinazoline Derivatives via Intramolecular cyclization. Biswadip Banerji, Moumita Chatterjee, Suvankar Bera and Mohd Usman Mohd Siddique; JMED Research, 2014, Article ID 464776, DOI: 10.5171/2014.464776.
Synthesis and Cytotoxicity Studies of Novel Triazolobenzoxazepine as New Anticancer Agents Biswadip Banerji, Sumit Kumar Pramanik , Priyankar Sanphui, Sameer Nikhar, and Subhas Chandra Biswas; Chemical Biology & Drug Design, 2013, 82 (4), 401-409.
Potent anticancer activity of cystine-based dipeptides and their interaction with serum albumins, Biswadip Banerji, Sumit Kumar Pramanik , Uttam Pal and Nakul Chandra Maiti; Chemistry Central Journal,2013, 7:91
Dipeptide derived from benzylcystine forms unbranched nanotubes in aqueous solution, Biswadip Banerji, Sumit Kumar Pramanik, Uttam Pal and Nakul Chandra Maiti Journal of Nanostructure in Chemistry 2013, 3 (1), 12
Conformation and Cytotoxicity of a Tetrapeptide Constellated with Alternative D- and L Proline, Biswadip Banerji, Sumit Kumar Pramanik , Uttam Pal and Nakul Chandra Maiti RSC Adv., 2012, 2, 6744-6747
Synthesis, characterization and cytotoxicity study of magnetic (Fe3O4) nanoparticles and their drug conjugate Biswadip Banerji, Sumit Kumar Pramanik, Samir Mandal, Nakul Chandra Maiti and Keya Chaudhuri RSC Adv., 2012, 2, 2493-2497.
Total Synthesis of the Originally Proposed and Revised Structure of Palmerolide A; K. C. Nicolaou*, Ramakrishna Guduru, Ya-Ping Sun, Biswadip Banerji, David Chen Yu- Kai* Angew. Chem. Int. Ed. 2007, 46, 5896
Total Synthesis of the Proposed and Revised Structure of Palmerolide A; K. C. Nicolaou*, Ya-Ping Sun, Ramakrishna Guduru, Biswadip Banerji, David Chen Yu- Kai* J. Am. Chem. Soc, 2008, 130(11), 3633-3644
Selective Inhibition of Factor Inhibiting Hypoxia Inducible Factor Michael A. McDonough, Luke A. McNeill, Melanie Tilliet, Cyril A. Papamicaël, Qiu-Yun Chen, Biswadip Banerji, Kirsty S. Hewiston, Christopher J. Schofield* J. Am. Chem. Soc, 2005, 127(21), 7680-7681
The Inhibition of Factor Inhibiting Hypoxia Inducible Factor (FIH) by β-oxocarboxylic acids; Biswadip Banerji, Ana Conejo-Garcia, Luke McNeill, Michael A. McDonough, Matthew Buck, Kirsty S. Hewitson, Neil J. Oldham & Christopher J. Schofield*; Chem.Com, 2005, 43, 5438
Design, Synthesis and Conformational analysis of Inverse γ-Turn Cyclic Peptidomimetic of Hypoxia Inducible Factor (HIF); MorakotKaewpet, Barbara Odell, Michael King, Biswadip Banerji, Christopher J. Schofield* & Timothy D. Claridge; Org. Biomol.Chem, 2008, 6, 3476
Palladium (0) CatalyzedRegioselective Synthesis of α-Dehydro-β-Amino Ester From Amines and Allyl acetates: Synthesis of α-Dehydro-β Aminoacid Derived Cyclic Peptide As a Constrained β-turn Mimic; S. Rajesh, Biswadip Banerji and Javed Iqbal*; J. Org. Chem, 2002, 67(22), 7852-7857
Synthesis of Cyclic Pseudo 310-Helical Structure From β-Amino Acid-L-Proline Derived Tripeptides Via Ring Closing Metathesis; Biswadip Banerji, B. M. Mallesh, S. Kirankumar, A.C. Kunwar and JavedIqbal.*; Tetrahedron Lett., 2002, 43(36), 6479-6483
Synthesis of Cyclic β- Turn Mimics From L-Pro-Phe / Phe-L-Pro Derived di- and Tri-peptides Via Ring Closing Metathesis: The Role of Chirality of Phe- Residue During Cyclisation; Biswadip Banerji, Madhushree Bhattacharya, Rajesh B. M, Saibal Kumar Das and JavedIqbal.*; Tetrahedron Lett., 2002, 43(36), 6473-6477
A Facile Conversion of 310 Helical Structure To Cyclic β-Turn Mimic In Dehydro- Phenylalanine Derived Small Peptides Through Ring Closing Metathesis T. V. R. S. Shastry, Biswadip Banerji, S. Kiran Kumar, A. C. Kunwar, J. P. Nandy and JavedIqbal*; Tetrahedron Lett., 2002, 43(42), 7621-7625
Synthesis of β-Methyl-β-alanine-L-Proline-XAA Tripeptides by Yb(OTf)3 Catalysed Michael Addition of Amines To N-Crotonyl-L-Proline-XAA: A Versatile Route To Cyclic β-Methyl-β-alanine Derived Tripeptides Via Ring-Closing Metathesis; BiswajitSaha, Debasis Das, Biswadip Banerji and JavedIqbal.*; Tetrahedron Lett., 2002, 43(36), 6467-6471.
Synthesis of Small Cyclic Peptides By Intramolecular Heck Reaction; V. Balraju, Rajmohan Reddy, G. R. Madhavan, Biswadip Banerji and Javed Iqbal.* Tetrahedron Lett., 2003, 44(2), 353-356
Synthesis of an α-Dehydro-β-Amino Acid Derived Cyclic Peptide As a Constrained β-Turn Mimic S. Rajesh, J. Shrivastava, Biswadip Banerji and Javed Iqbal*; ARKIVOC, 2001, 2, 10, 20-26.
a-Dehydro-β-Aminoacid Derivatives As Turn Inducers: Synthesis of Potential HIV Protease Inhibitors Based On Structural Mimicry S. Rajesh, J. Srivastava, Biswadip Banerji and Javed Iqbal*, Ind. J. Chem, 2001, 40B, 1029-1032
Synthesis of L-proline derived cyclic β-turn mimics via ring closing metathesis Rajesh B. M, M. Bhattacharya, Biswadip Banerji and JavedIqbal*; ARKIVOC, 2004, (viii),111