Bijesh P., , Ph.D.
Scientist
Cell Biology & Physiology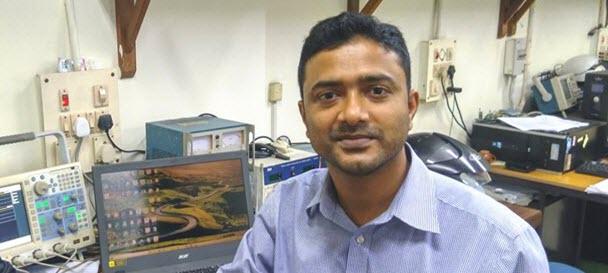 Research Interest
One carbon metabolism (1C) involves an array of metabolic pathways that include methionine and folate cycles. The methyl groups are transferred in 1C that are involved in the synthesis of purines and pyrimidines, homeostasis of amino acids such as glycine, serine, and methionine, and epigenetics. Mitochondrial 1C is an important area, especially concerning geriatric diseases.
Although the role of 1C in developing cells/tissues is well elucidated, its role in adult non-proliferative tissues is yet to be studied in deep. Our work focuses on downstream pathways involving 1C and its cross-talk with various disorders. Our primary focus is on 1C metabolism in progressive lung disorders such as idiopathic pulmonary fibrosis (IPF) and chronic obstructive pulmonary disease (COPD).
Credentials
Post-Doctoral Research Associate: University of Texas Health Science Center, Tyler, USA
Ph.D. in Biotechnology: CSIR-Central Food Technological Research Institute, CSIR-CFTRI, Mysuru, Karnataka, (Degree from University of Mysore)
Honours & Awards
CSIR JRF
Graduate Aptitude Test in Engineering (GATE)
Patents & Publications
Selected Publications:
Das et al. (2023). Caveolin-1-derived peptide attenuates tobacco smoke-induced airway and alveolar epithelial injury. American Journal of Physiology-Lung Cellular and Molecular Physiology. (Accepted).
Peethambaran, D., Puthusseri, B., Kumar, G., Janani, R., Giridhar, P., & Baskaran, V. (2023). miR-7-5p Antagomir Protects Against Inflammation-Mediated Apoptosis and Lung Injury via Targeting Raf-1 In Vitro and In Vivo. Inflammation, 1-22. doi: 10.1007/s10753-023-01782-w.
Pathikkal, A., Puthusseri, B., Divya, P., Rudrappa, S., & Chauhan, V. S. (2022). Folate derivatives, 5-methyltetrahydrofolate and 10-formyltetrahydrofolate, protect BEAS-2B cells from high glucose–induced oxidative stress and inflammation. In Vitro Cellular & Developmental Biology-Animal, 1-10.
Mallappa, M., Savanur, M. A., Gowda, B. G., Vishwanth, R. S., & Puthusseri, B. (2019). Molecular interaction of hemorrheologic agent, pentoxifylline with bovine serum albumin: An approach to investigate the drug protein interaction using multispectroscopic, voltammetry and molecular modelling techniques. Zeitschrift für Physikalische Chemie, 233(7), 973-994.
Puthusseri, B., Divya, P., Veeresh, L., Kumar, G., & Neelwarne, B. (2018). Evaluation of folate-binding proteins and stability of folates in plant foliages. Food chemistry, 242, 555-559.
Puthusseri, B., Divya, P., Lokesh, V., Kumar, G., Savanur, M. A., & Neelwarne, B. (2018). Novel folate binding protein in Arabidopsis expressed during salicylic acid-induced folate accumulation. Journal of agricultural and food chemistry, 66(2), 505-511.
Gaonkar, S., Savanur, M. A., Sunagar, M. G., Puthusseri, B., Deshapande, N., Nadaf, A. A., & Khazi, I. A. M. (2018). Exploring the potential of newly synthesized 4-methyl-6-morpholino-pyrimidine derivatives as antiproliferative agents. New Journal of Chemistry, 42(4), 2790-2803.
Mahanthappa, M., Savanur, M. A., Puthusseri, B., & Yellappa, S. (2018). Spectroscopic and electrochemical studies on the molecular interaction between copper sulphide nanoparticles and bovine serum albumin. Journal of Materials Science, 53(1), 202-214.
Divya, P., Puthusseri, B., Manual, D. J. K., & Savanur, M. A. (2017). Epigallocatechin gallate protects BEAS-2B cells from lipopolysaccharide-induced apoptosis through upregulation of gastrin-releasing peptide. Molecular and Cellular Biochemistry, 434(1), 105-111.
Puthusseri, B., Marudamuthu, A., Tiwari, N., Fu, J., Idell, S., & Shetty, S. (2017). Regulation of p53-mediated changes in the uPA-fibrinolytic system and in lung injury by loss of surfactant protein C expression in alveolar epithelial cells. American Journal of Physiology-Lung Cellular and Molecular Physiology, 312(6), L783-L796.
Shetty, S. K., Tiwari, N., Marudamuthu, A. S., Puthusseri, B., Bhandary, Y. P., Fu, J., ... & Shetty, S. (2017). p53 and miR-34a feedback promotes lung epithelial injury and pulmonary fibrosis. The American Journal of Pathology, 187(5), 1016-1034.
Patent:
Title: DIHYDROFOLATE FOR HYPOGLYCEMIC ACTIVITY, US Application No.: 18/326,450, Status: Filed, Inventors: Dr. Vikas Singh Chauhan, Dr. Bijesh Puthusseri, Ajana Pathikkal, Dr. Ulaganathan Mabalirajan, Atmaja Karmakar, Dr. Divya Peethambaran