Sourish Ghosh,
Senior Scientist
Infectious Diseases and Immunology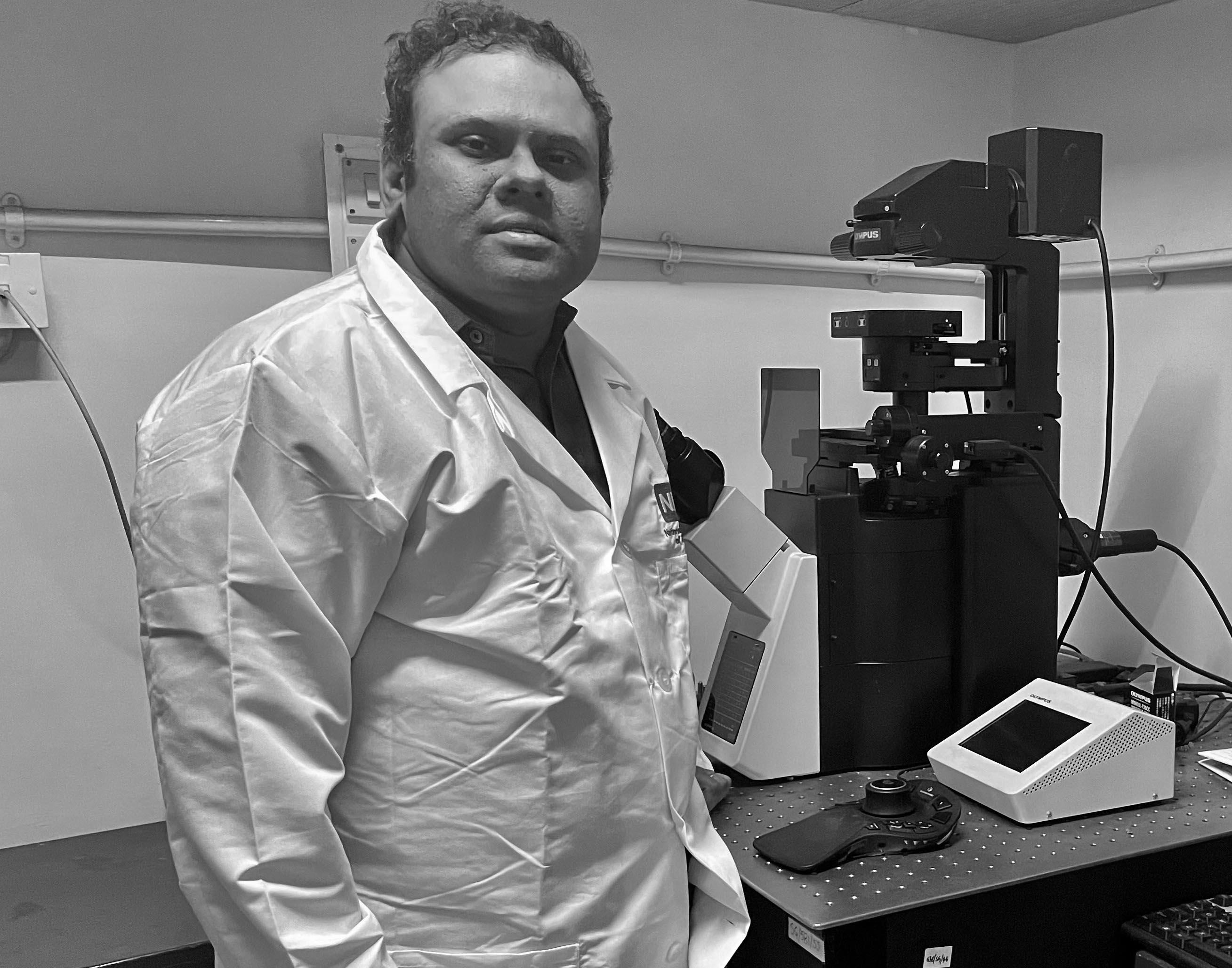 Research Focus
The theme of the lab is to understand cell biological processes and the host defence mechanism following the footprints of the viruses- like a secret investigator in mission mode! We are interested in studying majorly but not limited to RNA viruses. Some of our thrust areas have been cholesterol homeostasis, cellular trafficking and interferon signalling pathways. Another area of interest of our lab is to study- why salivary glands act as virus reservoirs of our body? We are trying to understand from immunological aspects and the role of salivary gland resident microbiome in hosts ranging from mice to human clinical samples. The overall goal of our lab is to develop translational strategies against viral infections- a solution from bench-to-bedside. We employ wild-type and transgenic mice and organoid cultures for our study along with confocal microscopy, flow-cytometry, high-throughput single cell transcriptomics, RT-PCR and conventional molecular biology and cell culture techniques. We believe in inter-disciplinary science for enhancement of our understanding of various virology phenomena, so we are open for new collaborations and technologies.
Research Interest
Investigating the reason behind viral persistence in salivary glands.
Immune response against virus trafficking inside exosome/extracellular vesicles.
Understanding role of lipid droplets in cholesterol homeostasis and viral replication.
Drug targeting potential host proteins important for various metabolic processes forming the mainstays for virus replication, assembly or trafficking.
If you are interested in our research and passionate about viruses please do send a detailed Curriculum Vitae and a brief research summary with a subject line: "Research Interest to Sourish" (see contact information). Ph.D students are encouraged to apply through proper channel as per norms of CSIR- Indian Institute of Chemical Biology. Postdoctoral candidates having their own grants should apply with a write up explaining their area of expertise and how they plan to align with the lab interest and a CV. The lab does NOT accept short-term trainees/interns, however candidates interested to dissertations are welcome.
Credentials
Senior Scientist, Infectious Diseases & Immunology, CSIR- Indian Institute of Chemical Biology (2022-present).

Research Fellow, National Heart, Lung and Blood Institute (NHLBI), National Institutes of Health, Bethesda, USA (2021-2022).

Research Scholar, National Heart, Lung and Blood Institute (NHLBI), National Institutes of Health, Bethesda, USA (2016-2021).

PhD, National Brain Research Centre, Manesar (2010-2016).
Honours & Awards
ASV 2019 Postdoctoral Travel Award American Society for Virology (2019)

Summer Mentor Award Office of Intramural Training & Education, National Institutes of Health (2019).

Visiting Fellow fellowship from 2016-2021, National Institutes of Health (2016).

DBT Travel Award, Department of Biotechnology, India (2015).
Patents & Publications
1. Ghosh S, Kumar M, Santiana M, Zhang M, Mishra A, Chibly AM, Nakamura H, Tanaka T, Chiorini JA, Hoffman P., Altan-Bonnet N. Enteric viruses replicate in salivary glands and bypass the fecal-oral route of transmission. Nature (2022 in press).
2. Ghosh S, Dellibovi-Ragheb TA, Kerviel A, Pak E, Qiu Q, Fisher M, Takvorian PM, Bleck C, Hsu VW, Fehr AR, Perlman S, Achar SR, Straus MR, Whittaker GR, de Haan CAM, Kehrl J, Altan-Bonnet G, Altan-Bonnet N. β-Coronaviruses Use Lysosomes for Egress Instead of the Biosynthetic Secretory Pathway. Cell. 2020 Dec 10;183(6):1520-1535.e14. doi: 10.1016/j.cell.2020.10.039. Epub 2020 Oct 27. PMID: 33157038; PMCID: PMC7590812.
a. Highlighted by NIH News Events, Reuters (Nov 6,2020), The Scientist (Nov 13, 2020), AmNY (Nov 6, 2020).
3. Roth AN, Helm EW, Kirsche E, Smith JC, Mirabelli C, Eurell LB, Ghosh S, Kennedy E, Hernandez A, Baldridge MT, Altan-Bonnet N, Wobus CE, Karst SE. A Novel Mouse Model of Norovirus Diarrhea. Nature Communications (2020).
4. Santiana M, Ghosh S (equal contribution first author), Ho BA, Rajasekaran V, Du WL, Mutsafi Y, De Jésus-Diaz DA, Sosnovtsev SV, Levenson EA, Parra GI, Takvorian PM, Cali A, Bleck C, Vlasova AN, Saif LJ, Patton JT, Lopalco P, Corcelli A, Green KY, Altan-Bonnet N. Vesicle-Cloaked Virus Clusters Are Optimal Units for Inter-organismal Viral Transmission. Cell Host Microbe. 2018 Aug 8;24(2):208-220.e8. doi: 10.1016/j.chom.2018.07.006. PMID: 30092198; PMCID: PMC6226266.
a. Cover article, Highlighted by Nature Reviews (Aug 30, 2018), NPR (Aug 9, 2018), BBC (Aug 8, 2018), Faculty of 1000/Must read.
5. Ghosh S, Mukherjee S, Basu A. Chandipura virus perturbs cholesterol homeostasis leading to neuronal apoptosis. J Neurochem. 2015 Oct;135(2):368-80. doi: 10.1111/jnc.13208. Epub 2015 Aug 31. PMID: 26118540.
6. Ghosh S, Dutta K, Basu A. Chandipura virus induces neuronal death through Fas-mediated extrinsic apoptotic pathway. J Virology. 2013 Nov;87(22):12398-406. doi: 10.1128/JVI.01864-13. Epub 2013 Sep 11. PMID: 24027318; PMCID: PMC3807914.
For a complete list of publication please visit:
https://scholar.google.com/citations?user=QYDLZ1AAAAAJ&hl=en&oi=ao